Matt Renzi's Rise and Shine – Jazz CD

Eight new songs of spontaneous music and journey to the free flow of jazz sound. You will love this new Crossover Jazz CD. 
Jazz Saxophonist Matt Renzi's new CD "Rise and Shine" is now available.
Click on the CD cover to purchase or have a quick listen!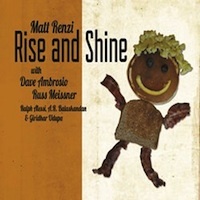 This is the third and final CD of the food trilogy, featuring the long-time trio in various musical settings. Special guests include Ralph Alessi on trumpet, A.R. Balaskandan on mridangam and Giridhar Udupa on vocal percussion.
Matt Renzi- sax, oboe, clarinet, flute
Ralph Alessi- trumpet (tracks 3, 4, 7)
Dave Ambrosio- bass
A.R. Balaskandan- mridangam (tracks 1, 5)
Giridhar Udupa- vocal percussion (track 1)